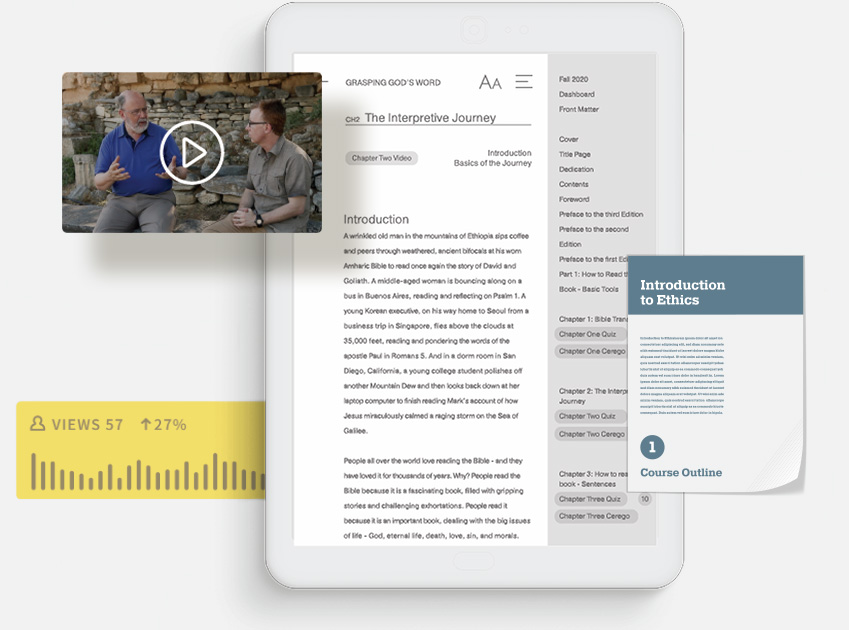 Expand
Description
A new commentary for today's world, The Story of God Bible Commentary explains and illuminates each passage of Scripture in light of the Bible's grand story. The first commentary series to do so, SGBC offers a clear and compelling exposition of biblical texts, guiding readers in how to creatively and faithfully live out the Bible in their own contexts. Its story-centric approach is ideal for pastors, students, Sunday school teachers, and all who want to understand the Bible in today's world.
SGBC is organized into three easy-to-use sections, designed to help readers live out God's story: Listen to the Story; Explain the Story; and Live the Story.
Praise for SGBC:
"The easy-to-use format and practical guidance brings God's grand story to modern-day life so anyone can understand how it applies today."—Andy Stanley
"Opens up the biblical story in ways that move us to act."—Darrell L. Bock
"It makes the text sing and helps us hear the story afresh."—John Ortberg
"This commentary breaks new ground."—Craig L. Blomberg
About the Author
Rev. Dr. Dennis R. Edwards is Associate Professor of New Testament at North Park Theological Seminary (Chicago, IL) and the author of 1 Peter in the Story of God Bible Commentary series. Dennis has served as a pastor in Minneapolis, MN, Washington, DC, and Brooklyn, NY. He holds a Bachelor of Science degree in chemical engineering (Cornell University) and has been a high school science and math teacher. He also earned a Master of Divinity degree in Urban Ministry (Trinity Evangelical Divinity School) as well as Master of Arts and PhD degrees in Biblical Studies (Catholic University of America). Dennis is married to Susan Steele Edwards, and they are the parents of four children. Dennis enjoys playing his flute and saxophone, as well as weightlifting, cycling, and playing racquetball as much as possible.
Expand
Product Details

Page Count:

240

Format:

Hardcover, Printed

ISBN:

9780310327301

Release:

May 9, 2017
Other Titles in the The Story of God Bible Commentary
Experience Enhanced Editions
For Instructors
It takes less than 10 minutes to request and explore the FREE trial of this book in Enhanced Editions. Get started now.
Start Free Trial
For Students
Discover more about the content and features in Enhanced Editions that help you learn faster and remember longer.
Access Enhanced Edition