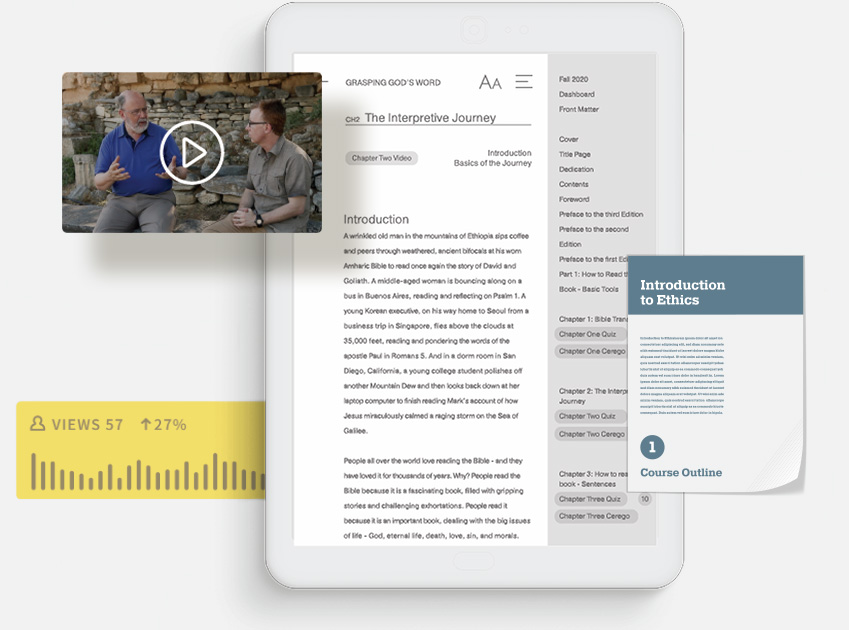 Expand
Description
An Introduction to Biblical Greek Grammar focuses on the linguistic and syntactic elements of Koine Greek to equip learners for accurate interpretation. Drawing upon twenty years of Greek teaching experience and the latest developments in linguistics and syntax, Harris introduces students to basic linguistic concepts and categories necessary for grasping Greek in ways that are clear and intuitive. This solid foundation enables students first to internalize key concepts, then to apply and build upon them as more complex ideas are introduced.
Several features are specifically designed to aid student's learning:
Key concepts are graphically coded to offer visual reinforcement of explanations and to facilitate learning forms and identifying their functions
Key concepts are followed by numerous examples from the Greek New Testament
Students learn how to mark Greek texts so that they can begin to "see" the syntax, identify the boundaries of syntactic units, and construct syntactic outlines as part of their preaching or teaching preparation
Four integrative chapters, roughly corresponding to the midterms and final exams of a two-semester sequence, summarize material to date and reinforce key concepts. Here students are also introduced to exegetical and interpretive concepts and practices that they will need for subsequent Greek studies and beyond.
"Going Deeper" and "For the Curious" offer supplemental information for students interested in learning more or in moving to advanced language study.
The accompanying workbook and video lectures (both sold separately) reinforce key concepts through additional contact with the material from each chapter of the grammar. All exercises in the workbook are taken from the Greek New Testament and the Septuagint and include extensive syntactical and exegetical notes to aid students.
About the Author
Dana M. Harris is associate professor of New Testament at Trinity Evangelical Divinity School in Deerfield, Illinois and editor of the Trinity Journal. Dr. Harris has been teaching Koine Greek and developing innovative teaching materials for over thirty years, including twenty years at the seminary level. She is author of Hebrews in the Exegetical Guide to the Greek New Testament series (Broadman & Holman) and is currently working on two books on Revelation.
Sign in to access these resources
Instructor Resources are available for preview only until you sign in to your Zondervan Academic instructor account!
Sign In
or
Sign Up
for a free account. Approved instructors will get full access to these resources and more.
Expand
Product Details

Page Count:

608

Format:

Hardcover, Printed Caseside

ISBN:

9780310108573

Release:

September 29, 2020
Experience Enhanced Editions
For Instructors
It takes less than 10 minutes to request and explore the FREE trial of this book in Enhanced Editions. Get started now.
Start Free Trial
For Students
Discover more about the content and features in Enhanced Editions that help you learn faster and remember longer.
Access Enhanced Edition