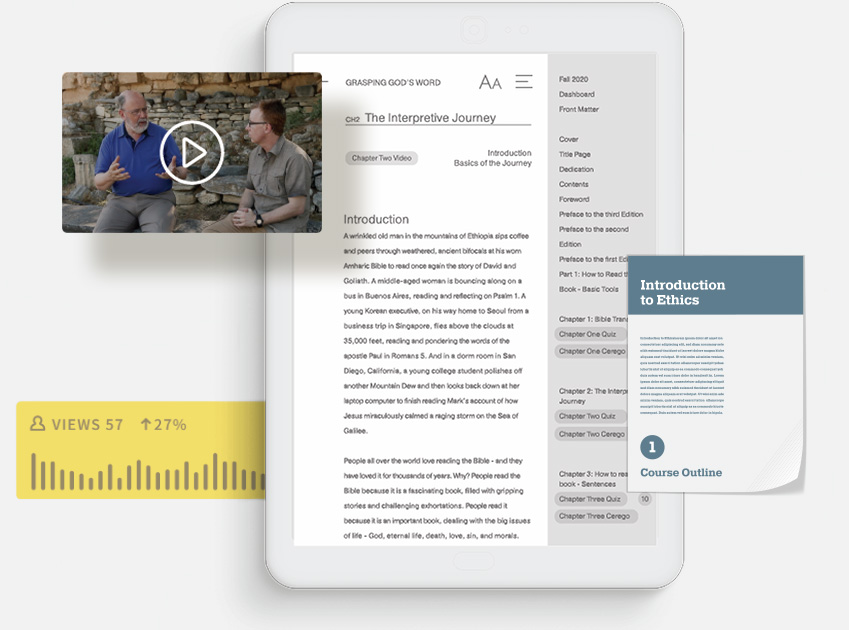 Expand
Description
Theology today is faced with increasing amounts of religious and theological pluralism. What is distinctive about Christian theology? Why do these ideas matter? And the biggest question of all: Who cares? Key aspects of orthodox theology are seen as speculative and irrelevant to "authentic" Christianity and to personal spirituality. While not succumbing to the pragmatism of the age, this book shows that key elements of Christian theology ground an integrated worldview and are essential for spiritual formation.
Engaging Theology is an introductory theology textbook that grounds a treatment of standard systematic topics in the wider context of life and practice and shows the relevance of each doctrine to the church. The book treats the essential doctrines of Christian orthodoxy by following the pattern of story, doctrinal exposition, theological relevance, and spiritual relevance:
Story: Each chapter begins with a brief and engaging account of the historical situation out of which the doctrine arose or where it played an essential role in the development of the church, showing students that orthodox theology matters and introducing them to most of the key theologians in the history of the church.
Doctrinal Exposition: The heart of the chapter is exposition of key elements of the doctrine, highlighting core and debated elements while clarifying heterodox perspectives. Integrated with the narrative account this section also models the contextualized nature of theology. Each chapter includes biblical, historical, and contemporary views on the issue and notes key figures in the debates and their influence.
Theological Relevance: While theological relevance is clear throughout each chapter, this section highlights relevance to the modern setting and concerns, including interaction with heterodox and non-Christian faiths. It identifies current theological problems besetting the church and shows how a proper understanding and integration of orthodox theology addresses these problems. It also points to other problems the church is facing for interesting discussion starters.
Spiritual Relevance: Since orthodox theology has a direct influence on one's own spiritual formation and practice, each chapter concludes with practical encouragements and discussions about how each doctrine can be integrated in one's personal and corporate life.
Engaging Theology is ideal for students and everyday people living in a post Christian era to help them seriously engage with the Christian faith.
About the Author
Ben C. Blackwell (PhD, University of Durham) is associate professor of early Christianity at Houston Baptist University. He has authored a number of essays and articles related to Historical Theology and the New Testament, including Christosis: Engaging Pauline Soteriology with His Patristic Interpreters. He is currently working on new monograph: Participating in the Righteousness of God: Justification in Pauline Theology. He also served as a co-editor for several volumes: Paul and the Apocalyptic Imagination; Reading Romans in Context: Paul and Second Temple Judaism; and Reading Mark in Context: Jesus and Second Temple Judaism.
Sign in to access these resources
Instructor Resources are available for preview only until you sign in to your Zondervan Academic instructor account!
Sign In
or
Sign Up
for a free account. Approved instructors will get full access to these resources and more.
Sign in to access these resources
Student Resources are available for preview only until you sign in to your Zondervan Academic student account!
Sign In
or
Sign Up
for a free account. Students get full access to these resources and more.
General

Chapter 11 - Eschatology: New Creation and the End

Chapter 1 - Introduction

Chapter 2 - Theological Method: How to do Theology

Chapter 3 - Trinity: Father, Son, and Holy Spirit

Chapter 4 - Revelation: God Reveals Himself

Chapter 5 - God and the World: Creator and Creation

Chapter 6 - Jesus the Christ: The Incarnate Messiah

Chapter 7 - Holy Spirit: The Lord and Giver of Life

Chapter 8 - Humanity and Sin: Human Flourishing and Failure

Chapter 9 - Salvation: Participating in New Creation
Expand
Product Details

Page Count:

304

Format:

Hardcover, Printed

ISBN:

9780310092766

Release:

October 29, 2019
Experience Enhanced Editions
For Instructors
It takes less than 10 minutes to request and explore the FREE trial of this book in Enhanced Editions. Get started now.
Start Free Trial
For Students
Discover more about the content and features in Enhanced Editions that help you learn faster and remember longer.
Access Enhanced Edition