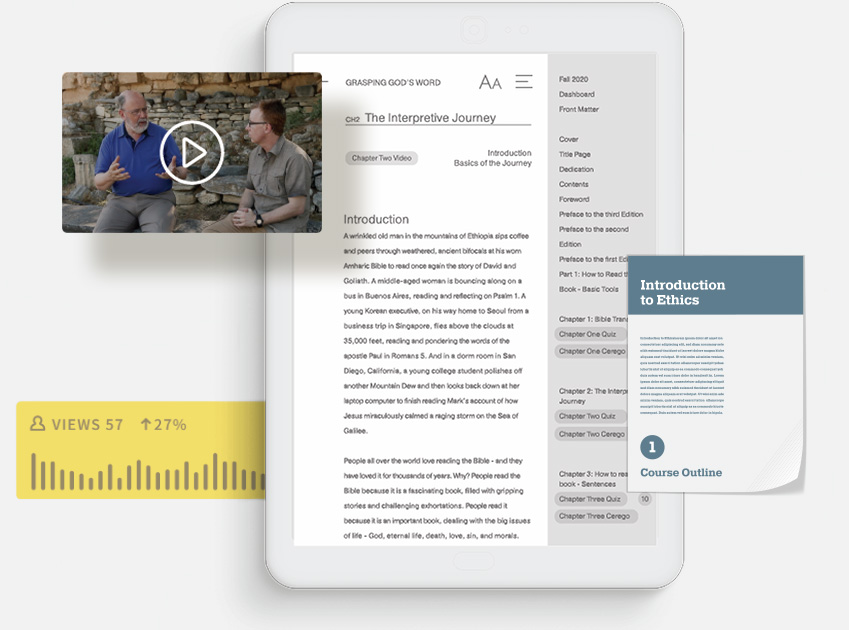 Expand
Preview
Description
The Zondervan Essential Companion to Christian History gives you what it promises: the essentials.
Following a brief introduction that outlines the key events of the New Testament era, there is a chapter devoted to each century of Christian history beginning with the year 100 and ending roughly at the year 2000. Each chapter flows chronologically featuring:
A brief overview, highlighting the main threads and issues running through the relevant century
Key historical developments explained
Thematic connections between centuries
Color-coded sidebars on Persons, Ideas, or Events
Persons: key figures either within or without the Church who have impacted Christian history significantly or who otherwise deserve special mention
Ideas: important Christian books, as well as heresies, doctrines, or political movements
Events: world-historical occurrences such as battles, natural disasters, inventions, or elections that have affected the development of Christianity in the world
The final chapter, devoted to the present century concludes the companion identifying key themes that the Christian Church is presently dealing with and suggesting future issues. A select Glossary of terms is provided at the end of the book, as well as a bibliographic list of suggested reading.
This highly informative, broad-ranging book provides vital facts on the growth and impact of Christianity from the apostles to the present day not only in the Western world but also globally, including the development of Eastern Orthodox and Armenian Christianity, as well as considering Christianity in Latin America, Southeast Asia, the Baltic and Slavic states, and India. The companion is organized by century, going through the major events, ideas, and personalities that have shaped Christian history around the world.
Whether you are a student or a lay person, a church-goer or unacquainted with Christianity, this book will help you grasp the global, multifaceted story of Christians.
About the Author
Stephen Backhouse (DPhil, Oxford) is the founder and director of Tent Theology, a venture that designs and delivers theology programmes to local churches. He is the Dean of Theology in the Local Church for Westminster Theological Centre and was formerly the Lecturer in Social and Political Theology at St Mellitus College. He is a historian of Christian thought, an expert on the work of Søren Kierkegaard and a recognised authority on the political theology of nations and nationalism. He is the author of many publications, including the award-winning popular biography Kierkegaard: A Single Life (Zondervan, 2016) and the Zondervan Essential Companion to Christian History (Zondervan, 2019). He has lived in the United States, and makes his home in Britain and Canada.
Experience Enhanced Editions
For Instructors
It takes less than 10 minutes to request and explore the FREE trial of this book in Enhanced Editions. Get started now.
Start Free Trial
For Students
Discover more about the content and features in Enhanced Editions that help you learn faster and remember longer.
Access Enhanced Edition