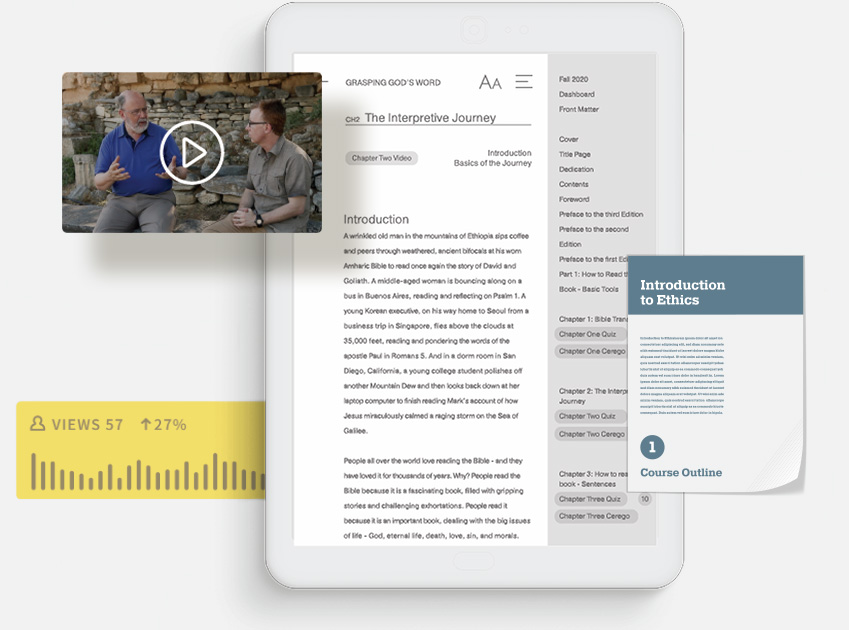 Expand
Description
Professor of theology Stephen Wellum considers Christ's singular uniqueness and significance biblically, historically, and today, in our pluralistic and postmodern age. Christ Alone is a much-needed study and defense of the doctrine that provides coherency to the Christian faith.
If the church is to proclaim the same Christ as the Reformers, we must understand and embrace solos Christus with the same clarity, conviction, urgency, and abundance of joy as the Reformers. To that end, Wellum:
Recovers the Reformers' basic insights by focusing first on two teachings: the exclusive identity of Christ and his sufficient work.
Follows the historical roots of the doctrine and its developments to show how the uniqueness of Christ has come under specific attack today.
Retraces the storyline of Scripture, from Christ's unique identity and work as prophet, priest, and king, to the application of his work to believers and our covenantal union with him.
Christ Alone seeks to recover a robust biblical and theological doctrine of Christ's person and work—and a renewed understanding that apart from Christ there is no salvation—in the face of today's challenges, unpacking why a fresh appraisal of the Reformation understanding of Christ alone is so important today.
—THE FIVE SOLAS—
Historians and theologians have long recognized that at the heart of the sixteenth-century Protestant Reformation were five declarations, often referred to as the "solas." These five statements summarize much of what the Reformation was about, and they distinguish Protestantism from other expressions of the Christian faith: that they place ultimate and final authority in the Scriptures, acknowledge the work of Christ alone as sufficient for redemption, recognize that salvation is by grace alone through faith alone, and seek to do all things for God's glory.
The Five Solas Series is more than a simple rehashing of these statements, but instead expounds upon the biblical reasoning behind them, leading to a more profound theological vision of our lives and callings as Christians and churches.
About the Author
Stephen Wellum is Professor of Christian Theology at The Southern Baptist Theological Seminary. He is the author of Kingdom through Covenant (Crossway). He is also the author of a forthcoming volume on Christology in the Foundations of Evangelical Theology series (Crossway). He is also writing a systematic theology that will be published around 2017 (B&H Academic).
Endorsements
There have been many attempts over the centuries to expound on Peter's answer to Jesus' question, "Who do you say that I am?": "You are the Christ, the Son of the Living God." Stephen Wellum's book unpacks both parts of Peter's answer by giving a fuller biblical account of the uniqueness of his person (as Son) and the sufficiency of his work (as Christ). This biblical-theological material serves as the backdrop for appreciating the significance of the Reformation's recovery of "Christ alone." Wellum's retrieval of this central Reformation sola is a wonderful encouragement to the church today, in a new relativistic and pluralistic context, to go and do likewise – to testify with lips and lives that the meaning of creation and the message of salvation is found in Christ alone. -- Kevin J. Vanhoozer, Research Professor of Systematic Theology, Trinity Evangelical Divinity School
Christ alone is the glue and centerpiece of the five great solas of the reformation according to this magnificent work by Steve Wellum. We see the centrality of Christ in both his person and his work, for the work of Christ is effective because of who he is. Wellum makes his case from both biblical and systematic theology, and he shows he is well-versed in philosophy as well. I believe this book is going to be read and quoted for many years to come. -- Thomas R. Schreiner, James Buchanan Harrison Professor of New Testament, The Southern Baptist Theological Seminary
In Christ Alone---The Uniqueness of Jesus as Savior, Stephen Wellum reminds us that "Christ alone" is not only the center of the five Reformation solas, but that it stands as the central doctrine of systematic theology. Without it we cannot fully understand the doctrines of the Trinity, humanity, or salvation. "Christ alone," argues Wellum, "must connect all the doctrines of our theology because Christ alone stands as the cornerstone of all the purposes and plans of God himself." Consequently, if we get "Christ alone" wrong, Wellum reminds us, "all other doctrines will likely suffer." So take up this book, read it, and think on the person and work of Christ in order that you may know, worship, and proclaim the same Christ as the Reformers, who is none other than the Christ of Scripture. -- Juan R. Sanchez, Senior Pastor of High Pointe Baptist Church, Austin, Texas
Sign in to access these resources
Instructor Resources are available for preview only until you sign in to your Zondervan Academic instructor account!
Sign In
or
Sign Up
for a free account. Approved instructors will get full access to these resources and more.
Expand
Product Details

Page Count:

352

Format:

Softcover

ISBN:

9780310515746

Release:

April 18, 2017
Other Titles in the The Five Solas Series
Experience Enhanced Editions
For Instructors
It takes less than 10 minutes to request and explore the FREE trial of this book in Enhanced Editions. Get started now.
Start Free Trial
For Students
Discover more about the content and features in Enhanced Editions that help you learn faster and remember longer.
Access Enhanced Edition