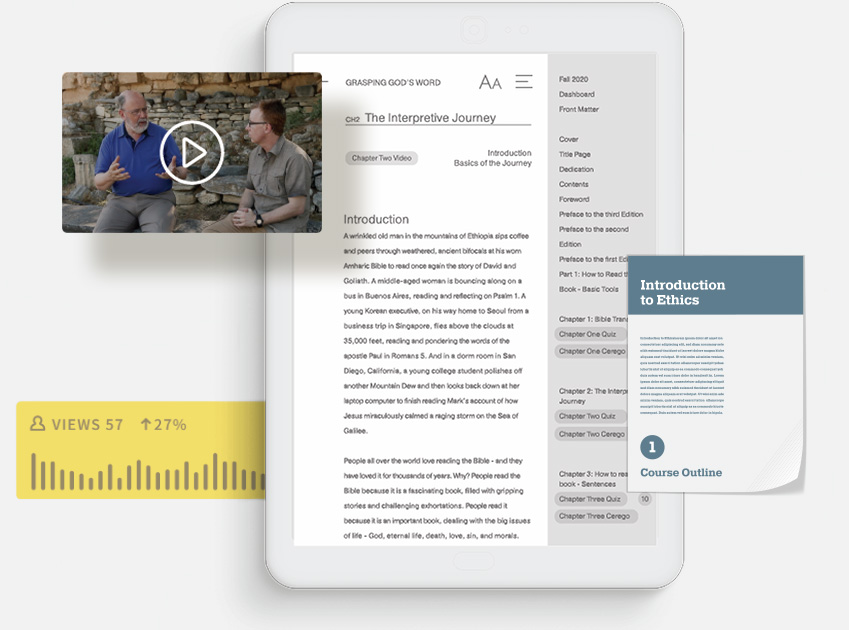 Description
What does the Bible say about the natural world and its place within God's purpose?
From Genesis to Revelation, the Bible reveals a God whose creative power and loving care embrace all that exists, from earth and sky and sea to every creature. Yet the significance of the Bible's extensive teaching about the natural world is easily overlooked by Christians accustomed to focusing only on what the Bible says about God's interaction with human beings.
In Creation Care, father and son team Douglas and Jonathan Moo invite readers to open their Bibles afresh to explore a comprehensive biblical theology of creation care as well as a careful analysis of the most up-to-date scientific data about the state of our world. Following the contours of the biblical storyline, they uncover answers to questions such as:
What is the purpose of the non-human creation?
Can a world with things like predators, parasites, and natural disasters still be the 'good' world described in Genesis 1?
What difference does the narrative of the 'Fall' make for humankind's responsibility to rule over other creatures?
What difference does Jesus make for our understanding of the natural world?
How does our call to care for creation fit within the hope for a new heaven and a new earth?
What is unique about Christian creation care compared with other approaches to 'environmental' issues?
How does creation care fit within the charge to proclaim the gospel and care for the poor?
Rather than merely offering a response to environmental concerns, Creation Care invites readers into a joyful vision of the world as God's creation in which they can rediscover who they truly are as creatures called to love and serve the Creator and to delight in all he has made.
____________
Part of the Biblical Theology for Life series, this practical and robust book will help you develop an effective and faithful Christian response to the scriptural teaching about the created world.
About the Authors
Douglas J. Moo (PhD, University of St. Andrews) is the Kenneth T. Wessner Professor of New Testament at Wheaton College. His work centers on understanding the text of the New Testament and its application today. He has written extensively in several commentary series, including the NIV Application Commentary and the New International Commentary on the New Testament. With is son Jonathan Moo, he coauthored Creation Care: A Biblical Theology of the Natural World, part of Zondervan's Biblical Theology for Life series.
Jonathan A. Moo (PhD, University of Cambridge) is associate professor of New Testament and environmental studies at Whitworth University in Spokane, Washington. In addition to his work in biblical studies, he earned a graduate degree in wildlife ecology from Utah State University and has written a number articles and books on the understanding of nature in early Judaism and Christianity. He has worked extensively with the Faraday Institute for Science and Religion in Cambridge (UK) and was a key contributor to the Lausanne Movement's Global Consultation on Creation Care and the Gospel.
Endorsements
At the heart of Christian theology lies the relationship of God and humanity. Yet this relationship--this heart--takes place in the 'body' of our natural world, and it is this material world that is the focus of Doug and Jonathan Moo's biblical theology of creation care. Creation, what Calvin calls the 'theater' of God's glory, is the stage for the drama of redemption. More than that: the way human creatures engage the natural world, and the way God's Son enters his creation to redeem it, are themselves important parts of the biblical story. Just as Israel honored God by treating the promised land as a gift, so too Christians honor God by treating the earth itself as a good though fragile gift that will eventually realize the purpose for which God originally intended it: to be a place for divine-human fellowship. This is an important book by two biblical scholars that reminds us that the Bible is good news not only for the church but for the whole material creation to which the human creature is inextricably and forever bound. -- Kevin J. Vanhoozer, Research Professor of Systematic Theology, Trinity Evangelical Divinity School
Douglas and Jonathan Moo have written a theologically profound assessment of the critical issue of creation care. Their analysis is scripturally sound and rich, and their understanding of our present predicament is insightful. Rather than browbeating their readers, they present a hopeful vision that will stir the church to action. Every Christian needs to read this important book. -- Tremper Longman III, Distinguished Scholar and Professor Emeritus of Biblical Studies, Westmont College
This book deserves to become the standard work of its kind. One of its many merits is that it grounds creation care in the whole biblical story from creation to new creation. Another is its well-informed and up-to-date account of the plight of creation today. A third is its thoughtful attention to practical and realistic ways of caring about and caring for creation in our contemporary Western contexts. -- Richard Bauckham, emeritus professor of New Testament, University of St Andrews, Scotland
Oh how we need this book! And many more like it. Douglas and Jonathan Moo seamlessly combine their biblical and scientific expertise to achieve two very important objectives. On the one hand, they argue a thorough biblical case for including God's creation within God's redemptive mission--that is, within the full biblical meaning of the gospel itself. The Bible has good news for all creation! The great Bible narrative does not begin in Genesis 3 (sin) and end in Revelation 20 (judgment), but begins with creation and ends in new creation. They expose the sheer unbiblical fallacy of popular 'theologies' of obliteration (of the cosmos) and evacuation (of the saints) and make abundantly clear the biblical hope of resurrection (of our bodies) and liberation (of creation), so that our future is not to be saved out of the earth (by 'going to heaven') but to be saved with the earth (by God coming here, as the ending of the Bible graphically portrays). On the other hand, they provide abundant scientific evidence to refute the political and corporate myths that so-called 'environmental issues' (like the impacts of climate change) are a 'hoax' or still in scientific dispute, while calling us to a range of practical measures that will help us move (as this series intends) from biblical theology to life and its fundamental ethical choices. One of the biggest challenges facing the Christian church (especially in the West) is whether or not those who fervently and evangelically claim to 'love God' and 'love our neighbour' will recognise that you cannot say you love God and trash his property, and you cannot say you love your neighbour and care nothing for neighbours on our planet who are suffering the impact of ecological damage at every level. This book is for those who are willing to be challenged on both counts from the Bible itself. -- Christopher J. H. Wright, Langham Partnership, author of The Mission of God's People
It's vital that the evangelical tradition is taking seriously the vast biblical resources pointing toward creation care. No one should be surprised that God would like us to look after the beautiful world we were given--and after reading this book, no one will be. -- Bill McKibben, author of The Comforting Whirlwind: God, Job, and the Scale of Creation
Creation Care represents a thorough and thoughtful account of the biblical view of creation and how we should live in light of it. Douglas and Jonathan Moo call us away from the apathy that many, in the church and out, display toward the care of the earth and atmosphere around us. At the same time, they model charity on issues where faithful Christians might disagree on how best to apply these truths. This book will make you think and will help you think as one shaped and formed by Scripture. -- Russell D. Moore, president, the Ethics and Religious Commission of the Southern Baptist Convention
In 2012 the Jamaica Call to Action, which one of the authors assisted in writing, called for 'new and robust theological work,' including 'an integrated theology of creation care.' Douglas and Jonathan Moo's work in Creation Care is exactly what we need. Beautifully written, it nonetheless provides a deep understanding of the exegetical, theological, scientific, and even practical issues involved in a Christian examination of this important area. Creation Care should become the standard text for any course on environmental theology and required reading for any pastor who wants a solid biblical framework for understanding and teaching about creation care. -- Ed Brown, director of Care of Creation
Learning how to live faithfully as part of God's good but groaning creation is a defining challenge facing the church and world today. For too long, however, caring for creation has been a blind spot for many Christians. Instead, we have often allowed our cultural and political lenses to dictate how we approach environmental issues. In this rich resource, two highly respected theologians refocus our attention on where it should have always been--the Bible. We have a divine opportunity--and an urgent responsibility--to help the church recover a more faithful role in caring for all God's creation, and this book lays an essential foundation for doing just that. It is an excellent and trustworthy guide for understanding and living out the biblical call to creation care. I highly recommend it to Christians, churches, and colleges everywhere. -- Ben Lowe, activist and author, The Future of Our Faith and Doing Good without Giving Up
Sign in to access these resources
Instructor Resources are available for preview only until you sign in to your Zondervan Academic instructor account!
Sign In
or
Sign Up
for a free account. Approved instructors will get full access to these resources and more.
Sign in to access these resources
Student Resources are available for preview only until you sign in to your Zondervan Academic student account!
Sign In
or
Sign Up
for a free account. Students get full access to these resources and more.
General

Chapter 1 - What Do Christians Have to Do with Creation?

Chapter 2 - How Do We Think Biblically and Theologically about Creation?

Chapter 3 - A Beautiful World

Chapter 4 - Members, Rulers, and Keepers of Creation

Chapter 5 - Humanity and the Earth, Israel and the Land

Chapter 6 - A Creation Subjected to Frustration

Chapter 7 - Jesus and Creation

Chapter 8 - "What Counts Is the New Creation"

Chapter 9 - "I Am Making Everything New!"

Chapter 10 - The Gospel and Creation Care

Chapter 11 - Humans and Creation: Understanding Our Place

Chapter 12 - Wisdom and Creation Care

Chapter 13 - Creation in Crisis?

Chapter 14 - Caring for Creation and Worshipping the Creator
Creation Care: A Biblical Theology of the Natural World
Instructors: Dr. Douglas J. Moo, Dr. Jonathan A. Moo
The Creation Care course brings together expertise in biblical studies and science, as Doug and Jonathan Moo trace key themes through Scripture in an effort to situate the created world within biblical theology. Each unit offers reflection on the biblical mandate to embody and live out God's perspective on the created world.
Course Details
14 Units
6 hours of video
Self-paced
Beginner
View Course
For Instructors and School Administrators
Enhance your school's traditional and online education programs by easily integrating online courses developed from the scholars and textbooks you trust.
Learn more
.
For Students
Pursue a deeper knowledge of God through self-paced college- and seminary-level online courses in Old and New Testament studies, theology, biblical Greek, and more.
Browse courses.
Product Details

Page Count:

256

Format:

Softcover

ISBN:

9780310293743

Release:

February 27, 2018
Other Titles in the Biblical Theology for Life
Experience Enhanced Editions
For Instructors
It takes less than 10 minutes to request and explore the FREE trial of this book in Enhanced Editions. Get started now.
Start Free Trial
For Students
Discover more about the content and features in Enhanced Editions that help you learn faster and remember longer.
Access Enhanced Edition