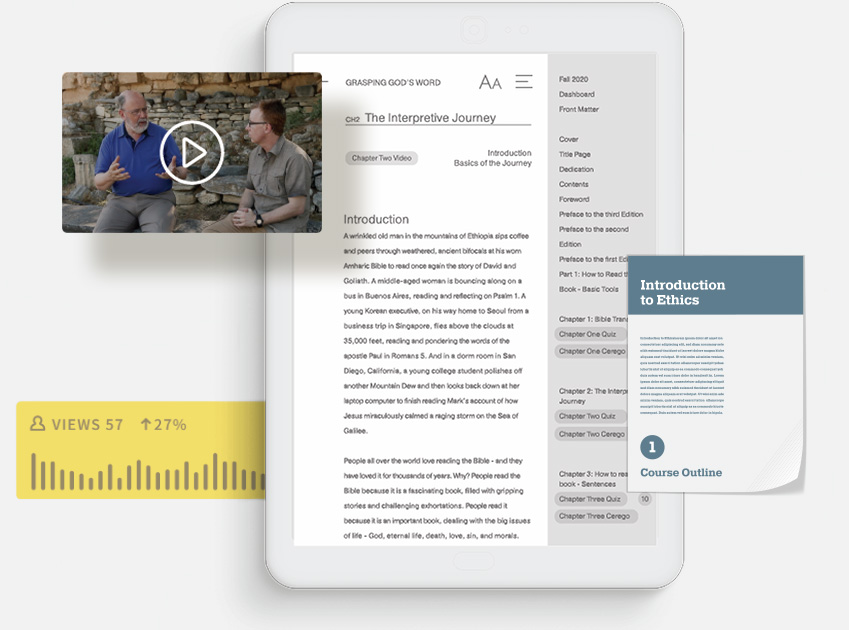 Description
A new commentary for today's world, The Story of God Bible Commentary explains and illuminates each passage of Scripture in light of the Bible's grand story.
The first commentary series to do so, SGBC offers a clear and compelling exposition of biblical texts, guiding everyday readers in how to creatively and faithfully live out the Bible in their own contexts. Its story-centric approach is ideal for pastors, students, Sunday school teachers, and laypeople alike.
Each volume employs three main, easy-to-use sections designed to help readers live out God's story:
LISTEN to the Story: Includes complete NIV text with references to other texts at work in each passage, encouraging the reader to hear it within the Bible's grand story.
EXPLAIN the Story: Explores and illuminates each text as embedded in its canonical and historical setting.
LIVE the Story: Reflects on how each text can be lived today and includes contemporary stories and illustrations to aid preachers, teachers, and students.
—Genesis—
The book of Genesis is, as the name implies, a book of beginnings: the beginning of the cosmos, the beginning of humanity, the beginning of Israel, a prequel to the main story of the Pentateuch. In narrative terms a beginning leads to a middle and to an end. The book, in other words, is ultimately not to be read isolated from the rest of the Pentateuch, the Old Testament, or finally the Christian canon as a whole.
Edited by Scot McKnight and Tremper Longman III, and written by a number of top-notch theologians, The Story of God Bible Commentary series will bring relevant, balanced, and clear-minded theological insight to any biblical education or ministry.
About the Author
Tremper Longman III (PhD, Yale University) is a distinguished scholar and Professor Emeritus of Biblical Studies at Westmont College in Santa Barbara, California. He is on the advisory council of the BioLogos Foundation, and is the Old Testament editor for the revised Expositor's Bible Commentary and general editor for the Story of God Bible Commentary Old Testament, and has authored many articles and books on the Psalms and other Old Testament books.
Genesis
Instructor: Dr. Tremper Longman III
The Genesis course, taught by Tremper Longman III, illuminates the book of Genesis in light of the Bible's grand story.
Course Details
15 Units
8 hours of video
Self-paced
Intermediate
View Course
For Instructors and School Administrators
Enhance your school's traditional and online education programs by easily integrating online courses developed from the scholars and textbooks you trust.
Learn more
.
For Students
Pursue a deeper knowledge of God through self-paced college- and seminary-level online courses in Old and New Testament studies, theology, biblical Greek, and more.
Browse courses.
Product Details

Page Count:

624

Format:

Hardcover, Printed

ISBN:

9780310496076

Release:

February 9, 2016
Other Titles in the The Story of God Bible Commentary
Experience Enhanced Editions
For Instructors
It takes less than 10 minutes to request and explore the FREE trial of this book in Enhanced Editions. Get started now.
Start Free Trial
For Students
Discover more about the content and features in Enhanced Editions that help you learn faster and remember longer.
Access Enhanced Edition