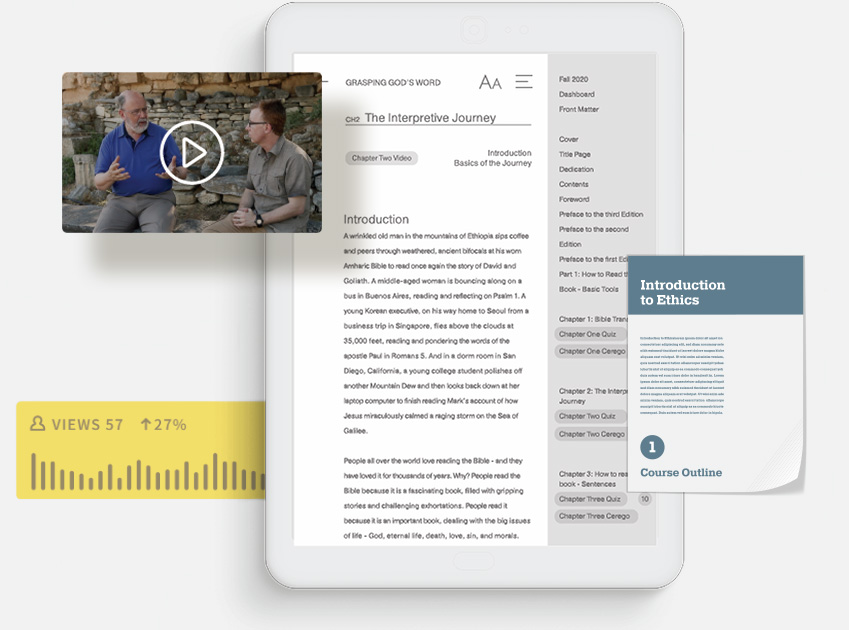 Expand
Preview
Description
Historical Theology presents the key pillars of the contemporary church and the development of those doctrines as they evolved from the history of Christian thought.
Most historical theology texts follow Christian beliefs in a strict chronological manner with the classic theological loci scattered throughout various time periods, movements, and controversies—making for good history but confusing theology.
This companion to the classic bestseller Systematic Theology is unique among historical theologies. Gregg Allison sets out the history of Christian doctrine according to a topical-chronological arrangement—one theological element at a time instead of committing to a discussion of theological thought according to its historical appearance alone.
This method allows you to:
Contemplate one tenet of Christianity at a time, along with its formulation in the early church—through the Middle Ages, Reformation, and post-Reformation era, and into the modern period.
Become familiar with the primary source material of Christian history's most important contributors, such as Cyprian, Augustine, Aquinas, Luther, Calvin, Barth, and others.
Understand the development of evangelical doctrine with a focus on the centrality of the gospel.
Discern a sense of urgent need for greater doctrinal understanding in the whole church.
Historical Theology is an easy-to-read textbook for any Christian who wants to know how the church has come to believe what it believes today. Gregg Allison's clear and concise structure make this resource an ideal introduction to Christian doctrine.
About the Author
Gregg Allison (PhD) is Professor of Christian Theology at The Southern Baptist Theological Seminary in Louisville, Kentucky where he teaches systematic theology. Previously he served on Cru staff at the University of Notre Dame and overseas in Italy and the Italian-speaking region of Switzerland. He is a pastor of Sojourn Community Church, and is the theological strategist for Sojourn Network, a church planting network of about thirty churches. He is the author of Historical Theology: An Introduction to Christian Doctrine; Sojourners and Strangers: The Doctrine of the Church; and Roman Catholic Theology and Practice: An Evangelical Assessment.
Table of Contents
Introduction to Historical Theology

Part 1: The Doctrine of the Word of God

Part 2: The Doctrine of God

Part 3: The Doctrine of Humanity

Part 4: The Doctrines of Christ and the Holy Spirit

Part 5: The Doctrine of the Application of Redemption

Part 6: The Doctrine of the Church

Part 7: The Doctrine of the Future

Glossary

Sign in to access these resources
Instructor Resources are available for preview only until you sign in to your Zondervan Academic instructor account!
Sign In
or
Sign Up
for a free account. Approved instructors will get full access to these resources and more.
Sign in to access these resources
Student Resources are available for preview only until you sign in to your Zondervan Academic student account!
Sign In
or
Sign Up
for a free account. Students get full access to these resources and more.
Historical Theology
Instructor: Dr. Gregg Allison
Rather than following the history of Christianity and presenting various doctrines as they arise, Gregg Allison's Historical Theology course traces the development of vital Christian theology topic by topic.
Course Details
15 Units
6.5 hours of video
Self-paced
Beginner
View Course
For Instructors and School Administrators
Enhance your school's traditional and online education programs by easily integrating online courses developed from the scholars and textbooks you trust.
Learn more
.
For Students
Pursue a deeper knowledge of God through self-paced college- and seminary-level online courses in Old and New Testament studies, theology, biblical Greek, and more.
Browse courses.
Expand
Preview
Product Details

Page Count:

784

Format:

Hardcover, Printed

ISBN:

9780310230137

Release:

April 24, 2011
Other Popular Titles to Consider
Experience Enhanced Editions
For Instructors
It takes less than 10 minutes to request and explore the FREE trial of this book in Enhanced Editions. Get started now.
Start Free Trial
For Students
Discover more about the content and features in Enhanced Editions that help you learn faster and remember longer.
Access Enhanced Edition