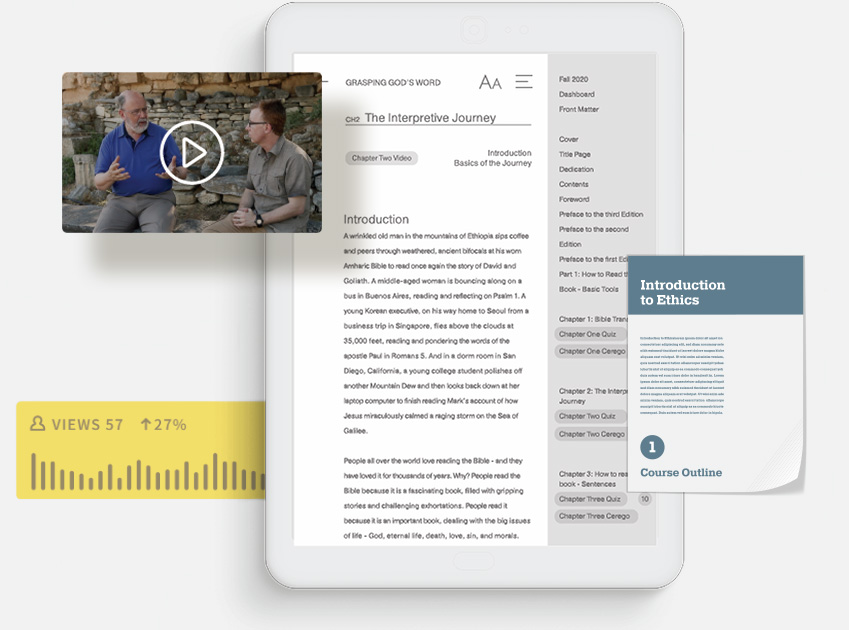 Expand
Description
The easy accessibility of the Bible in most of the world's major languages can obscure a dramatic and sometimes unexpected story. In Know How We Got Our Bible, scholars Ryan Reeves and Charles Hill trace the history of the Bible from its beginnings to the present day, highlighting key figures and demonstrating overall the reliability of Scripture.
Reeves and Hill begin with the writing of the Bible's books (including authorship and dating), move into the formation of the Old and New Testaments (including early transmission and the development of the canon), and conclude with several chapters on Bible translation from the Latin Vulgate to the ongoing work of translation around the world today.
Written simply and focused on the overarching story of how the Bible came to us today, Know How We Got Our Bible is an excellent introduction for formal students and lay learners alike. Each chapter includes reflection questions and recommended readings for further learning.
About the Authors
Ryan M. Reeves (PhD, Cambridge) is Associate Professor of Historical Theology at Gordon-Conwell Theological Seminary and Dean of the seminary's Jacksonville campus. Also a visiting lecturer at Reformed Theological Seminary, Reeves has written English Evangelicals and Tudor Obedience and co-written The Story of Creeds and Councils (Baker, 2019). He hosts the Historical Theology for Everyone blog at The Gospel Coalition.
Charles E. Hill (PhD, Cambridge) is John R. Richardson Professor of New Testament and Early Christianity at Reformed Theological Seminary in Orlando and author of several books, including Who Chose the Gospels?: Probing the Great Gospel Conspiracy (Oxford, 2010).
Sign in to access these resources
Instructor Resources are available for preview only until you sign in to your Zondervan Academic instructor account!
Sign In
or
Sign Up
for a free account. Approved instructors will get full access to these resources and more.
Know How We Got Our Bible
Know How We Got Our Bible
Instructors: Dr. Ryan Matthew Reeves, Dr. Charles E. Hill
How did we get the Bible? Can we trust it? Which translation is best?
This course will help you read the Bible better, taking you on a journey from ancient manuscripts to the book on your dining room table.
Course Details
15 Units
6 hours of video
Self-paced
Beginner
View Course
For Instructors and School Administrators
Enhance your school's traditional and online education programs by easily integrating online courses developed from the scholars and textbooks you trust.
Learn more
.
For Students
Pursue a deeper knowledge of God through self-paced college- and seminary-level online courses in Old and New Testament studies, theology, biblical Greek, and more.
Browse courses.
Expand
Product Details

Page Count:

208

Format:

Softcover

ISBN:

9780310537205

Release:

August 7, 2018
Other Titles in the KNOW Series
Experience Enhanced Editions
For Instructors
It takes less than 10 minutes to request and explore the FREE trial of this book in Enhanced Editions. Get started now.
Start Free Trial
For Students
Discover more about the content and features in Enhanced Editions that help you learn faster and remember longer.
Access Enhanced Edition