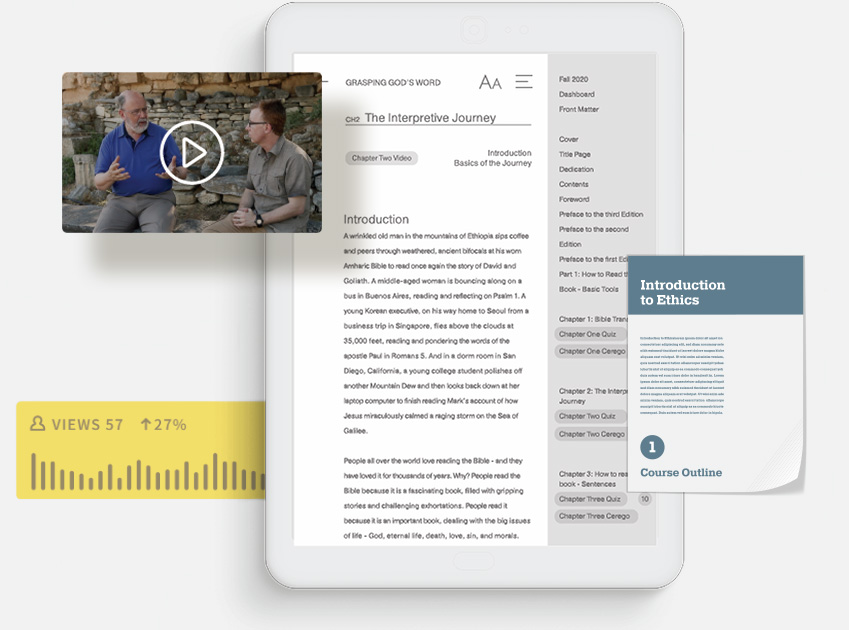 Expand
Description
The Christian life depends upon faith, and there are good reasons for that faith. In Know Why You Believe, professor and author K. Scott Oliphint answers the "why" questions both Christians and non-Christians often ask, laying out a simple and convincing case for the core teachings of Christianity:
Why Believe in the Bible?
Why Believe in Jesus?
Why Believe in Miracles?
Why Believe in Salvation?
Why Believe in God Despite the Evil in the World?
And more!
As part of the KNOW series, Know Why You Believe is designed for personal study or classroom use, and for small groups and Sunday schools wanting to better understand the traditional defenses of Christian beliefs.
Each chapter covers a foundational teaching and includes a rationale for that teaching, responses to common objections, reflection questions to prompt further consideration, and suggested readings for readers wanting to dig deeper.
About the Author
K. Scott Oliphint is professor of apologetics and systematic theology at Westminster Theological Seminary in Philadelphia and is the author of numerous articles and books, including Reasons for Faith: Philosophy in the Service of Theology and Covenantal Apologetics. He is also coeditor of the two-volume Christian Apologetics Past and Present: A Primary Source Reader and a contributor to Four Views on Christianity and Philosophy.
Endorsements
In Know Why You Believe, Scott Oliphint presents a very thorough case for Christianity. He presents evidence, but also analyzes carefully the mindset necessary to appreciate the force of the evidence. And his argument again and again points to Christ, not only as the conclusion of the argument, but as our deepest ground of certainty. -- Dr. John Frame, Professor of Systematic Theology and Philosophy, Reformed Theological Seminary
About God, the renown British author Kingsley Amis once said: "I'm an atheist, yes. But it's more that I hate him." In this brilliant book K. Scott Oliphint addresses the toughest challenges posed by unbelief. With great respect and imagination he convincingly shows that unbelief is not primarily a matter of quarreling with the facts. It is generated by the deepest inclinations of the heart. He also persuasively argues that the Christian faith is fully able to provide our "rest in thee" as Augustine put it centuries ago. Obligatory reading for anyone concerned to defend and commend the biblical outlook to this generation. -- William Edgar, Professor of Apologetics, Westminster Theological Seminary, Philadelphia, PA
Know Why You Believe is a very fine book which clearly expounds the core beliefs of the Christian faith and the rational basis for those beliefs, while also deftly dismantling some of the common objections leveled at Christianity. Readers will find Scott Oliphint to be a learned scholar and a reliable guide who writes with a delightfully engaging style. His latest offering will serve multiple audiences: skeptical unbelievers, new believers, young Christians headed out to college, and mature Christians looking for a fresh and accessible apologetic resource that tackles the intellectual challenges of our day in a biblically faithful fashion. -- James Anderson, Associate Professor of Theology and Philosophy, Reformed Theological Seminary, Charlotte, NC
Sign in to access these resources
Instructor Resources are available for preview only until you sign in to your Zondervan Academic instructor account!
Sign In
or
Sign Up
for a free account. Approved instructors will get full access to these resources and more.
Know Why You Believe
Instructor: Dr. K. Scott Oliphint
In the Know Why You Believe course, apologist K. Scott Oliphint introduces you to compelling reasons for a belief in God, the Bible, and the foundational teachings of the Christian faith.
Course Details
14 Units
5 hours of video
Self-paced
Beginner
View Course
For Instructors and School Administrators
Enhance your school's traditional and online education programs by easily integrating online courses developed from the scholars and textbooks you trust.
Learn more
.
For Students
Pursue a deeper knowledge of God through self-paced college- and seminary-level online courses in Old and New Testament studies, theology, biblical Greek, and more.
Browse courses.
Expand
Product Details

Page Count:

224

Format:

Softcover

ISBN:

9780310525974

Release:

April 25, 2017
Other Titles in the KNOW Series
Experience Enhanced Editions
For Instructors
It takes less than 10 minutes to request and explore the FREE trial of this book in Enhanced Editions. Get started now.
Start Free Trial
For Students
Discover more about the content and features in Enhanced Editions that help you learn faster and remember longer.
Access Enhanced Edition